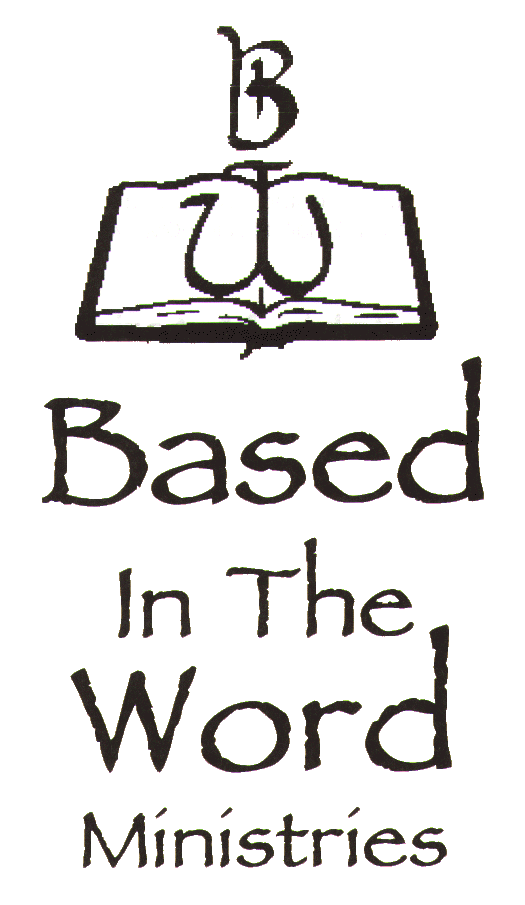 WHO WE ARE:
"Based In The Word" is the ministry of Darrell Farkas. A ministry of home Bible studies, internet studies, and question and answer by e-mail.
OUR BACKGROUND:
Familiar with conservative, charismatic and non-charismatic brethren, I understand the concerns and views in each camp. I was born in 1962, and grew up in a Southern Baptist church. I was converted to Christ at age 11. As a teenager, I fellowshipped with others my age in charismatic settings. I attended Prairie Bible Institute in Canada before my marriage. I continue my pursuit of God in scriptural study. I began writing about various issues as God impressed on my spirit certain needs in Christ's body. The printed messages are the results of these writings.
OUR MINISTRIES:
Besides weekly Bible studies, we have books, and this web-site where various lessons, poems, plays and books can be found. We have these and other lessons available in printed form, as well as in tract form, and have some of them (as well as some books) already on CD and DVD.
WHERE WE ARE:
We are located in eastern Wyoming, in the United States. If you wish to contact us, invite Darrell to speak at your gathering, or you believe God wants you to join our ministry, you can reach us through our Email: darrell@basedintheword.org
WHAT WE BELIEVE:

* We hold to a non-sectarian view (1 Corinthians 1:10-13; 3:1-4; Titus 3:10;).
* We believe in one God who manifests Himself in three persons: the Father, the Son and the Holy Spirit. This is commonly called the Trinity (Isaiah 43:10c,11; 44:24; 45:5,6,21,22; 48:11c-13,16,17; Romans 1:20; Colossians 2:9; Hebrews 1:1-8; John 1:1-3; Acts 5:3,4, Revelation 1:8,11,18).
* We believe that people are saved in only one way: through the sacrifice that Jesus paid on the cross. We are saved, apart from works, on God's merit alone. This doesn't mean a saved person will not have works follow, for he most assuredly will. Living faith has to have works or it is not living. (Romans 5:8; 6:23; 10;9,10; Ephesians 2:8-10; James 2:14-26)
* We believe a holy standard of living is met only by God's Holy Spirit living out His holiness through believers as we look to Him. Anything else is legalism. (Romans 8:1-14; Galatians 1:6-2:5; Philippians 2:13-15)
* We believe the Bible teaches that marriage is only between one man and one woman. (Ephesians 5:31; I Corinthians 7:2)
* We believe in the headship of Christ over the Church, and the headship of man over woman. Hence, women are never to lead or rule over men, inside or outside of the Church. (I Timothy 2:12-15; I Corinthians 11:3)
* We believe the basis for Christian fellowship must be based in the agreement of who God is, how we are saved and in bringing forth "fruits meet for repentance". Disputes and disagreements must be hammered out by prayerfully humbling ourselves before God and honestly digging into His Word. (Matthew 3:7-10; Matthew 5:6; John 4:22-24; Acts ch. 15; 1 Corinthians ch. 5; 2 Corinthians 6:14-18; Galatians 6:1,2; 2 Thessalonians 3:6,14,15)

* We believe the Bible is God's word to man. It is the only reliable authority for guiding our lives in accordance with God's desires. (1 Timothy 4:15,16; 2 Timothy 2:15,16; 3:16,17)

OUR GOAL:

To challenge believers in Christ to follow John's direction, "And every man that hath this hope in him purifieth himself, even as he is pure." 1 John 3:3. We see a lot of Christians who are "conservative" in title, who sit around comparing themselves to the "liberals". They think that since they are nothing like them, they must be pretty good. As Paul said, "but they measuring themselves by themselves, and comparing themselves among themselves, are not wise." 2 Corinthians 10:12b. Our hope is to challenge this attitude of comparing to turn and personally thirst for righteousness (Matthew 5:6). Diligence for Christ in the heart of every believer is our prayer.